Welcome to Food and Nutrition Services!
Good nutrition and learning go hand in hand!

The Nutrition Services department is made up of a team of food and nutrition professionals that are dedicated to students' health, well being and their ability to learn. We support learning by promoting healthy habits for lifelong nutrition and fitness practices.

Meals, foods and beverages sold or served at schools meet state and federal requirements which are based on the USDA Dietary Guidelines. We provide students with access to a variety of affordable and appealing foods that meet the health and nutrition needs of students.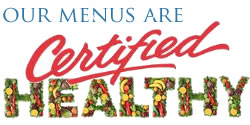 Certified with Highest Standards for Nutritious School Meals By Texas Department of Agriculture
San Angelo has made a significant investment in improving the quality of school meals. Key enhancements include an increase in the availability of fruits, vegetables, whole grains, and fat-free and low-fat fluid milk in our meals. We are also reducing in the levels of sodium, saturated fat and eliminating added trans-fat in meals.
We serve free breakfast to all elementary students!

2017 Summer Meal Locations and Serving Times